Mullica Hill Architect Thom Wagner has designed estate homes for Mullica Hill in the tradition of historic farmhouses.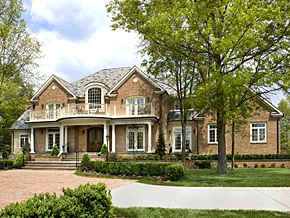 Mullica Hill Farms is a gorgeous expanse of farms, horse stables, and spacious homes nestled in the countryside.
Spicerville was the first settlement of Quaker plantations in the area now known as Mullica Hill. A half-century later, the Mullica family established plantations to the north and named their homestead for their ancestral home in Finland. During subsequent development, Mullica Hill emerged as the town center.
Mullica Hill's antique mall is a regional favorite, but its charming neighborhoods are of historic interest as well.  Because of its architectural significance, the Mullica Hill historic district draws visitors from throughout the region.  Originally a center for surrounding agricultural businesses, Mullica Hill's shopping district has become a quaint Main Street of nostalgic shops and restaurants. The entire village has been listed on both the New Jersey and the National Register of Historic places.
Mullica Hill is within commuting distance of both Philadelphia and the Jersey Shore, as Interstate 295 and the New Jersey Turnpike run along the west side of town, and Route 55 is a short drive to the east.