Moorestown Architect Thomas Wagner's exceptional designs for new houses and renovations can be found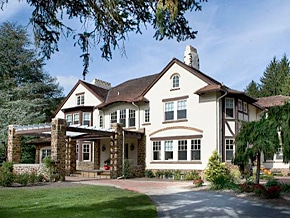 in the most prestigious neighborhoods of Moorestown, New Jersey.  His elegant, seamless additions to older homes have updated them with modern, open spaces for today's lifestyle.   Many are in the classical style characteristic of the luxury and refinement of Moorestown's finest neighborhoods.
In 2005, Money magazine named Moorestown the "Best Place to Live" in the nation.  It earned the top spot, according to the magazine, because of its "community spirit, plentiful employment within commuting distance, excellent schools and affordable housing."  Philadelphia is about a 15 minute commute, by car. The high speed commuter line to the city is a short drive down Interstate 295, and the NJ Turnpike is nearby as well.
Although the area was first settled in the 1600's, the town didn't develop until nearly a century later. The downtown was built around a tavern on what is now Main Street. Quaint colonial-era homes from this time stand alongside larger homes built by wealthy businessmen in the 1800's.  Neighborhoods of smaller working class homes were developed in the post war years.
Moorestown Mall is at the edge of town, but many residents prefer the downtown for shopping, enjoying the stroll though it's lovely, much-admired neighborhoods. The Community House and Strawbridge Lake Park are favorite spots for family activities.