Haddon Township Architect Thomas Wagner creates innovative renovations for the charming homes of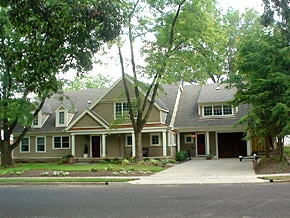 historic Haddon Township. Because he understands the architectural legacy of its neighborhoods, he is able to design modern homes that complement traditional styles.
Settlers came to Newton Creek in the late 17th century and established Newton Township.  A century later, Haddon Township was created when it split from Newton.  At that time, Haddon was comprised of farms and manufacturing facilities. Further growth was spurred by the nearby rail line to Camden, and as Haddon grew it would divide several more times. Those separating neighborhoods would join adjacent municipalities, and the divisions would leave the township with its irregular boundary and two enclaves (non-contiguous districts.)  Boundary neighborhoods include Collingswood, Haddonfield and Cherry Hill.
The Underground Railroad made stops in town. Its rich history, spanning the colonial era to the present, is revealed in its architecture.  Haddon Avenue is a lovely tree-lined shopping district, featuring fine boutiques and restaurants. Cooper River Park and Newtown Lake Park provide scenic locations for community events, and views for lake front properties.
The high speed commuter line, Interstates 295 and 76 link Haddon to Philadelphia.  The Ben Franklin and Walt Whitman Bridges are a short drive from downtown.