Collingswood Architect Thomas Wagner is well-respected for his innovative designs of both new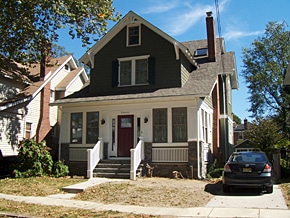 and remodeled homes. His schemes for more modern, bright and open spaces have updated and complemented the charms of the older homes of Collingswood.  Thom Wagner has also designed commercial spaces in Collingswood, including a few downtown shops along trendy Haddon Avenue.
Collingswood was once a blue collar community, with a thriving downtown.  But it suffered a downturn twenty years ago, when neighboring Camden fell into decline and malls drew business away from its downtown. A decade ago Collingswood began a revival spurred by redevelopment of its housing and downtown area. It has become popular for its hip restaurants, unique shops and galleries. The revitalization has made for an interesting mix of young professionals and blue-collar residents.
Now, older row homes are in demand for their affordability and proximity to the high speed commuter line to Philadelphia. The weekly farmer's market, an arts center and theater within walking distance have made the downtown a focus of the community once again.