Cherry Hill Architect Thomas Wagner's projects can be seen throughout Cherry Hill, in the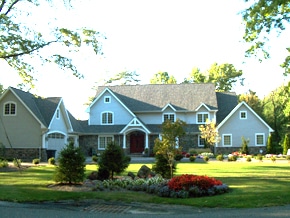 neighborhoods of Hunt Track, Barclay Farms, Wilderness Acres, Fox Hollow and others. Designed to fit into the existing neighborhood seamlessly, his homes compliment traditional styles.  His additions and renovations of the standard home models of Cherry Hill have given them an updated, open concept and a fresh look for today's living.
In 2006, Cherry Hill was recognized by Money magazine as one of the "Best Places to Live" in the nation.  Its high schools are consistently ranked among the best in the state.
Cherry Hill grew up out of the farms that provided produce for nearby Campbell's Soup Company.  First construction was the Garden State Park horse track and the hotels surrounding it.  Neighborhoods developed quickly after World War ll, as its farms became the site of luxury homes and condominiums. Springdale Farm is the one remaining working farm in town, and is a popular destination for fresh produce and hay rides. Cherry Hill Mall was built in 1961, a major shopping center and the first enclosed shopping mall located on the east coast.
Philadelphia is just 7 miles west, and regional bus service provides transportation to the city. The New Jersey Turnpike and Interstate 295 provide access for commuters to Camden, Trenton, Princeton and Atlantic City.  Cherry Hill's fine restaurants, hotels and conference centers are a frequent destination for travelers visiting the Philadelphia area.